Indianapolis Real Estate Lawyer
Hocker & Associates, LLC, helps clients with the issues related to purchase and sales of real estate throughout Indiana
Buying and selling a home, business or another property ranks near the top of some of the most important financial decisions people often make in their lives. That's why it's critical that documents involving such transactions conform to all applicable state and federal laws.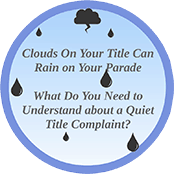 Quiet Title Actions Homebuyers, Investors, Landlords and Commercial Real Estate Owners
At 
Hocker & Associates, LLC
, our attorneys are committed to providing people with exceptional service and legal advice about all real estate matters. Since 1993, people in Indianapolis and throughout the state of Indiana have turned to us due to our willingness to work hard for results in even the most difficult cases.
Our law firm's founder, Indiana real estate lawyer Janet Davis Hocker, and Attorney Kathleen Crebo have extensive experience dealing with a wide range of real estate cases. Attorney Hocker and Attorney Crebo realize that land transactions often involve complex legal issues that can delay the process.
If you choose us to represent your interests, we vow to address these issues in a timely manner in an effort to avoid problems down the road. This is just one way we can help you with your real estate matter.
Attorney Janet Davis Hocker
Indianapolis Real Estate Lawyer
6626 E 75th St
Indianapolis, IN 46250
What types of real estate cases does Hocker & Associates handle?
There are so many different reasons why people choose to hire an attorney to deal with real estate matters. Two of the most common reasons why involve two of the most common types of real estate cases we handle at our law firm:
Both of these kinds of cases are serious legal matters. And both of them often require immediate attention from an experienced lawyer. We're ready and eager to help you with all your legal needs.

What are other common real estate issues?
The following list includes some of the common issues we handle on behalf of clients at Hocker & Associates, LLC:
For Sale By Owner (FSBO)
Zoning
Tax Sale Deeds
Tax Sale Notices
Land Sale Contracts
Leases
Closing/property purchase representation
Sheriff's Sales
If you don't see your specific real estate concern listed above, or even if you do, we strongly urge you to schedule an appointment with our law firm as soon as possible. You can also learn more about real estate-related legal issues on our page devoted to frequently asked questions about real estate.

How can an Indiana real estate attorney help me?
Having an experienced Indiana real estate lawyer on your side who has a comprehensive understanding of the law and extensive experiencing creating, amending and interpreting real estate documents can make a difference.
A knowledgeable real estate lawyer can make sure you're agreeing to an accurate, fair document that reflects your desired goals – without any hidden fees or unexpected clauses. Even the slightest difference in one word in a real estate document can make a big difference.
That's why it's important to meet with our law firm to review or create your prospective real estate transaction. We know what words to look for and how to clearly explain what such documents mean in plain English. We're eager to help you.